How to clean carpets using Baking Soda (Sodium bicarbonate)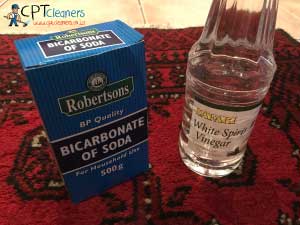 HOW TO CLEAN A CARPET WITH BAKING SODA (BICARBONATE OF SODA)
For many households, home carpet cleaning is a real test, especially if it has many hard-to-remove stains, so it is important to use special or improvised carpet cleaners to clean up this task. Consider some of the cheapest but effective means for cleaning carpets, namely bicarbonate of soda (baking soda) and vinegar, and also how to use them correctly for cleaning different types of carpets and area rugs.
Some of you immediately doubt whether it is worth cleaning carpets with bicarbonate of soda and the answer is a definite, YES! Bicarbonate of soda is used to remove stains from carpets, to combat unpleasant odors and to simply refresh the appearance of carpeting.  It has proven its effectiveness by thousands of positive reviews, while it is absolutely safe and very cheap.
Like most other types of improvised remedies that are used for cleaning carpets and area rugs at home, the use of vinegar and bicarbonate of soda (baking soda) for cleaning carpets from stains has its pros and cons, which every carpet owner must know, so consider them in detail below.
ADVANTAGES OF BICARBONATE OF SODA OF CARPET CLEANING
Bicarbonate of soda really removes dirt from your carpet. This fact is verified by time and on various carpets by professional carpet cleaning companies in many countries.
Bicarbonate of soda not only helps to remove stains and small dirt from the carpet, but will also refresh its appearance.
Bicarbonate of soda does not harm the health of your family and pets. With the observance of the simplest safety carpet cleaning techniques, bicarbonate of soda is absolutely harmless.
Bicarbonate of soda can be used at homes with pregnant women, babies and people with over sensitive skin.
After cleaning carpets with bicarbonate of soda there is no unpleasant chemical smell. Unlike many special carpet cleaning products, after cleaning the rug with Bicarbonate soda there will be no smell of chemicals and flavors.
The cost of bicarbonate of soda is more than affordable. It's not a secret that bicarbonate soda is cheap and affordable for everyone.
Bicarbonate of soda is available to everyone. If you do not have Bicarbonate of soda in your house, you can easily purchase it in almost every grocery store or supermarket.
DISADVANTAGES OF CLEANING CARPETS WITH BICARBONATE OF SODA
Like many other products, it is not recommended to use bicarbonate of soda for cleaning hand-made silk carpets.
You might not see any immediate cleaning effect of carpet cleaning with bicarbonate of soda with the first cleaning of the carpet. Sometimes it is necessary to clean the carpet with bicarbonate of soda several times in a row to clean out all the dirt and remove stains.
Ordinary bicarbonate of soda can not cope with severe dirt and stains on the carpet. If the stain is old, or difficult to remove, then it needs a special approach to cleaning to which a professional carpet cleaning company like CPT Cleaners can assist.
RECIPES FOR CARPET CLEANING WITH BICARBONATE OF SODA AT HOME DRY CARPET CLEANING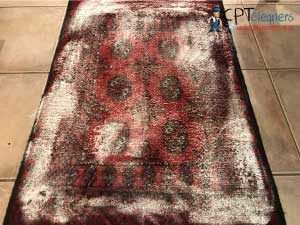 The sequence of carpet cleaning is the following:
Vacuum the carpet or area rug to collect small debris and dust.
Evenly sprinkle bicarbonate of soda on the carpet or area rug
Use a soft broom to brush the bicarbonate of soda into the carpet or area rug
Leave the carpet or area rug for half an hour so that the bicarbonate of soda can absorb the odor
Carefully vacuum the carpet several times to collect all of the bicarbonate of soda particles.
When removing stains from the carpet, this method can also help well. The sequence of removal of stains from the carpet with bicarbonate is the same as above. The only difference is that the stain on the carpet should not only be sprinkled with soda, but gently rub it into the pile (palm, clean brush with soft nap) the edges of the spot to its center (especially if the spot is fresh and only set).
CARPET CLEANING WITH BICARBONATE OF SODA AND VINEGAR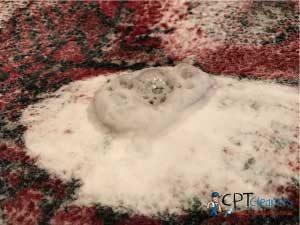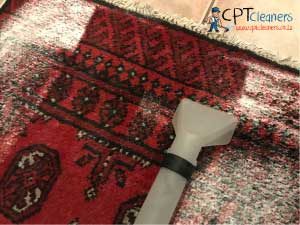 Cleaning carpets with bicarbonate of soda and vinegar is a more complicated process, in contrast to the previous method. The main thing before beginning the cleaning is to check the carpet's reaction to vinegar to make sure that it does not damage the carpet or area rug, its base and dyes.Adding vinegar to bicarbonate of soda will speed up and enhance the cleaning result.
Prepare a solution of vinegar to clean the carpet, namely mix 1 tablespoon of vinegar with 1 liter of warm water.
Evenly sprinkle the entire surface of the carpet with bicarbonate of soda.
Spray a solution of vinegar on the  carpet or area rug and wait at least 30 minutes for the vinegar to react with the bicarbonate of soda. (The vinegar will cause the bicarbonate of soda to boil)
You have to wait another 30 min and then vacuum the carpet to ensure that all the bicarbonate of soda and vinegar is removed from the carpet or area rug.